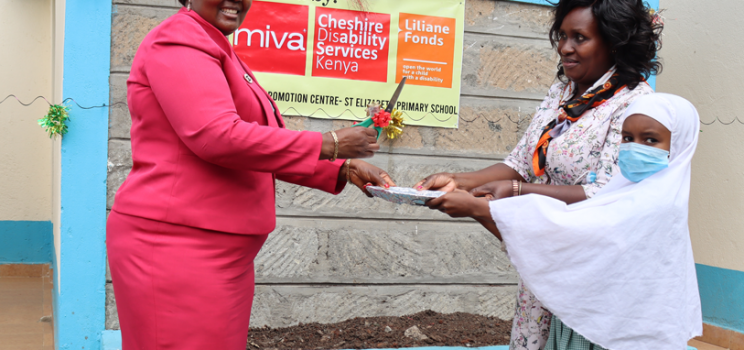 Nine accessible toilets commissioned in Mukuru Promotion Centre
Children with disabilities in Mukuru Informal settlements have reasons to smile following the construction and commissioning of nine accessible toilets in three of their institutions.
Five toilets were commissioned at Songa Mbele na Masomo whereas St. Elizabeth and Mukuru Primary Schools received two each for boys and girls with disabilities. The three institutions are supported by Mukuru Promotion Centre, one of our 40 partner organizations in Kenya.
The construction of these toilets was made possible courtesy of the generous support of MIVA and Liliane Fonds through Cheshire Disability Services Kenya.
Speaking during the launch, Cheshire Disability Services Kenya CEO, Mrs. Cecilia Mutava said that through MIVA and Liliane Fonds support, CDSK has been enabled to complement the work of the Government of Kenya in promoting inclusive education through the construction of accessible toilets for learners with disabilities.
''A lack of access to proper sanitation facilities poses a huge barrier to education. Children with disabilities oftentimes miss admissions in nearby institutions due to lack of sanitary facilities that meet their needs,'' said Cecilia.
The headteacher of St. Elizabeth Primary school Mrs. Grace Okomoh added that many times Parents with children with disabilities have been denied admission due to lack of accessible toilets that can cater for their needs.
'Thank you MIVA, Liliane Fonds, and CDSK for the kind gesture to construct toilets for learners with special needs. Now, there will be no limitation in our institution and now we're able to admit even children with severe disabilities,' said Okomoh.
By Faustine Chepchirchir– Communications Officer, CDSK